The Value of Simulation, At a Glance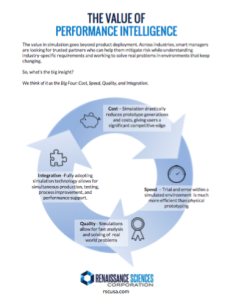 The value in simulation goes beyond product deployment. Across industries, smart managers are looking for trusted partners who can help them mitigate risk while understanding industry-specific requirements and working to solve real problems in environments that keep changing.
Simulation's advantages include cost reduction and better profitability. Organizations with the right partners see near-term advantages but, more importantly, longer-term strategic benefits.
So, what's the big insight?
Download a copy of our Infographic: The Value of Performance Intelligence